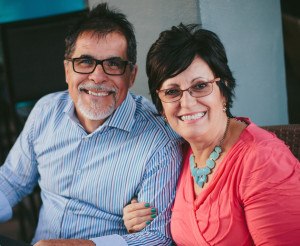 Sandra and I got married rather young – we were both 22 when we promised before God and men that we were to live and die for each other. It was winter of 1976 but the flame of love was as strong as our youth. We also pledged our lives to be instruments of God in sharing the good news of His love to all nations of the world (or wherever His hand would take us!)
She played the piano, I played the guitar, and there was nothing we could not do to reach the world through music and testimony. Devoted we were. Passionate too. We were also part of a band that in those years traveled our country of Brazil from north to south, from east to west. We lived in a season of revival without being fully aware of it – only Heaven will tell how many hundreds and thousands of youth were won directly and indirectly through our ministry.
The traveling schedule was heavy however and by the early 80's we had acquired more equipment to our luggage, more ammunition to our weapons than we could carry along: God had blessed us (granted we agreed with His good intentions) with four beautiful children: one boy, three girls and both of us hitting the road roughly 6 months out of a year made our passionate devotion almost impossible to be sustained. We tried for a number of years husband travelling by himself, but the burden became unbearable and eventually we both agreed the itinerant musician and preacher ministry was not the best fit for our young marriage any longer. I went to work for a church – worship and missions pastor. She dived full on at being a stay home mom and wife.
I never felt I was doing anything out of the ordinary in those years but I did feel the pleasure of the Father always around me… And Father was working hard: in a matter of a few years we grew from 40 people meeting in a large home to almost a thousand renting three conference rooms in a hotel and sustaining three services every Sunday to accommodate the influx of people. Half perhaps were dissatisfied people with the sad state of most churches in the area, the other half however were new believers and that was unheard of. We were living days of revival. Only this time we did know it was happening. Here is one thing I learned about signs of revival – when you as a leader have to plead and insist to see things happen, that is regular church. When your people, out of the blue, plead and insist with you that they are ready to make things happen and ask you for any opportunity – that is revival.
PART 2
I have always had this passion for words. Even before any involvement with church or Jesus. I know now it was a gift from Him all the while – all good gifts com from Him. What I did not know is that my destiny was so wrapped up in my identity. In other words, His best gifts were part of what He had created me to be and He wanted to give me the full package – to find a lot of fulfillment and joy in the exercise of what was the most desirable for me. In other words to be in love with what I do – that for me is the Father's desire when all is said and done. It is His desire and purpose for everyone of His children.
I was maybe 12 or 13 when I found out I was a writer and a poet. It happened without great fanfarre – our teacher would ask us to write an essay or a paper on any given subject at the end of a regular class and then take it home to grade and bring back the following class. She would comment on the papers and sometimes read parts of them for the class to understand better what she was after in us. And that is when she started reading my papers and essays again and again which was for me a great source of encouragement. Small beginnings to be sure – a good teacher, words of encouragement, a sense of worth starting to find its way into the sun. But powerful none the less. Maybe that is what Jesus means when He compares the Kingdom of His Father to a little seed that seems rather insignificant to start with but becomes a mighty tree with multiple resources…
When I met Jesus it was early 70's – music especially from England was taking over  the planet. Music in the church was changing drastically – from more traditional hymn-like to more contemporary, Beatles-like. Music that sounded like my generation plus the eternal Word of Jesus in powerful lyrics won my heart. I was captivated by Love and soon I found a lot of joy mingling my gift with words with the amazing power of music. That mixture was to become a good part of my future and my calling, though I did not know it then. All I knew is that I felt JOY whenever I dived into it.
…to be continued…..